The Enduring Advisory Firm: How to Serve Your Clients More Effectively and Operate More Efficiently
Mark C. Tibergien, Kimberly G. Dellarocca | Review by Bill McGuire, February 2017
Buy The Book >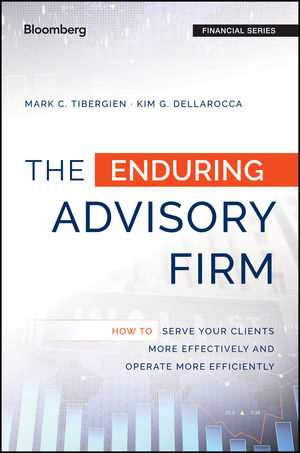 Summary: The Enduring Advisory Firm is a book for the forward-thinking financial advisor. Financial advisement is traditionally a hands-on field, so few in the industry feel threatened by the shifting social and technological landscape. In this book, Mark Tibergien—routinely named one of the most influential people in the financial services world—and Kim Dellarocca make a compelling case for taking a closer look at technology and other big-deal industry trends in order to move the business of financial advice into the next stage of its evolution.

The Enduring Advisory Firm
will inspire financial advisors, managers, and executives to branch out in ways that will lead to measurable growth. With a newfound focus on the evolution of your business, you might be surprised at where change takes you. In addition to providing RIAs with guidelines to help them succeed, the authors are also donating all profits from the book to the CFP Board Center for Financial Planning, whose mission is to promote diversity in the advisory profession."