Be Curious! How to ensure a successful experience on RIA Match Platform
Mary Ann Buchanan, May 2017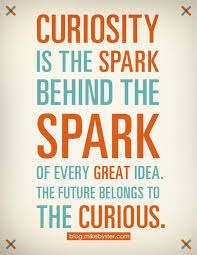 One of the most frequent questions that we get from new members is "How can I ensure a successful experience on RIA Match?" Looking back on the 5 years since RIA Match's inception and 3,500+ members later, we found the characteristic of 'Being Curious' is central to those who've achieved success on the RIA Match platform.
So how can you 'Be Curious?' here are 5 ways:
1. Build Your Profile – It may seem obvious but completing your profile is the first and most important step. To be included in the Matching Pool and have your Match List populated your Profile needs to be complete. Need help? Log in to your personalized Dashboard, you will find videos to show you how to complete your profile. We offer different levels of monthly paying plans tailored to meet your needs.
2. Communicate in the Community – To fully experience the value proposition of the RIA Match Platform, you need to send messages to your best matches and read messages received to learn who is interested in speaking with you. Be curious! You are in control. . You are protected by anonymity, so send a friendly note asking to learn more about your match, tell a bit about your firm and begin a dialogue. Dialogue is a process.
3. Complete "My Story"–One of our newest features, "My Story" is an open text box that appears at the top of your RIA Match Profile and is available to paying subscribers and viewable by all subscribers. It is the perfect way to tell your firm's story and value proposition.
4. Read 'Knowledge and Insight' – Each day of the week, we post 3 new articles in the 'Knowledge and Insight' digest. These articles, curated by our Knowledge and Insight Editor, keep you apprised of the most important news and trends.
5. Experience our 'New' Dashboard – Our new conditional Dashboard will help you better manage your profile, alert you to your best next action step and report new matches and messages.
Need some additional inspiration? Take the Curiosity Assessment at Harvard Business Review. https://hbr.org/2015/12/assessment-whats-your-curiosity-profile
Follow us on LinkedIn, Twitter and Facebook to receive 'Be Curious' posts.